Why do people buy keychains?
Have you ever had the experience of not finding your keys? Do you want to make your keys attractive?
For some people, a keychain may be a trivial item, but for other people, they are a small but beautiful decoration in life, a souvenir with a different meaning, or perhaps a trip or unforgettable memories.
In fact, people are often unaware of how often they use keychains in their daily lives. Here are 4 reasons why people buy keychains.
People won'tlose their keys
Everyone has a key, and everyone has different keys, whether it's a house key or a car key. Keychains not only allow us to distinguish them better, but also can make them look more attractive. A keychain is probably the first thing we look for when looking for our keys every day.
A decent keychains can also help you manage your keys securely and uniformly. When you reach into the bag, you can find them quickly without having to dig to the bottom of the bag. You're more likely to find your keys easily when an attractive keychain hangs on them.
Keychainsas a gift
Keychains are always small in size, light in weight, affordable, and can be customized into different styles. It is a good choice for both individuals and businesses.
For individuals, especially for teenagers who are not financially independent, keychains are the best choice for friends and classmates. There are many kinds of keychains and support customization. You can print any content, such as famous character or text that others like on the keychain. You can also make the acrylic keychain by your self and decorate it with some acrylic charms. Then give it as a gift to your close friend, classmate or teacher at school, club or other group.
At the same time, they are perfect for companies and institutions as souvenirs to give to large groups of people. Keychains for corporate or institutional gifts often include a logo, company name and address, phone number, email address, and most likely a slogan. Whether handing out to a group of kids on a school trip, or giving away free to potential clients to promote your brand, keychains are an easy and affordable item.
Keychains a wedding favors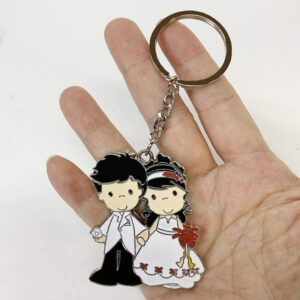 Keychains make great wedding gifts. You can customize the cartoon image or name of yourself and your significant other on the wedding keychain, and you can also add glitter to make it more beautiful. This will be an unforgettable and meaningful souvenir that your guests will receive on your big day. And they can always use it in life after the wedding party. They will always remember the sweet moments of your wedding scene.
In fact, keychains are also great party favors for all special occasions, including baby showers, birthday party bags, and even Christmas parties.
As part of a fashion trend
A custom keychain can also function as fashionable decorative accessories. Teens can easily hang one on their bag, wallet, lanyard, or purse to show their talents and personalities, And instantly make them look for stylish. All in all, keychains are a great way to express your personal style. And keychain making is also becoming more and more popular among young people. Some even make a living by making keychains.
As a favorite decoration of the younger generation, keychains are often printed with the names and images of popular bands, cartoon characters, comic characters, game characters, etc., and are matched with various lanyards, oversized plush keychains and other good-looking materials. It looks cute when hung on the zipper of a backpack. Some people even like to collect keychains for resale at a later date. Because they are likely to increase in value in the future.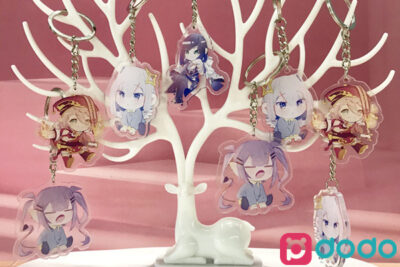 Therefore, the keychain is no longer a simple accessory for hanging keys. In this dazzling world, keychains are being given more uses and meanings. What are you still hesitating about? Hurry up and join the team of collecting keychains and be a part of the fashion trend. Go to choose and customize your own personalized keychain!