Are you looking for a way to feel safer when you're out and about?
Self-defense keychains could be the answer.
The keychain is an essential part of your keys – they not only keep them organized but can also act as a form of self-defense. These self-defense keychains come in many different styles, some with spikes like the self-defense cat keychains.
If you're looking for ways to defend yourself, these keychains will come in handy as they're easy to grip and use at a moment's notice. So you can be at peace in any situation.
Popular Types of Self-Defense Keychains
These come in many different types, but the most popular ones are,
Pepper spray
Stun guns
The one with the Alarm
These different types can either be put together or can be used separately.
Why Do We Need Self Defence Keychains?
Self-defense keychains help you in getting the upper hand in an emergency situation as they are easily accessible and can give you a sense of security at any given time, like,
When you are walking alone at night,
Feel unsafe in an isolated area,
You are being attacked or mugged,
Even when you suddenly become conscious of your surroundings etc.
These keychains can easily stay hidden in your pockets and be there when you feel unsafe.
How to be prepared for Any Situation?
You will never know what's lurking right around the corner. These self-defense keychains can give you a sense of security, especially the self-defense cat keychain, as it can protect you anytime.
Here are some guidelines on how to protect yourself using self-defense keychains,
Trust your gut; if a place doesn't feel safe, leave it or avoid it, and always be on guard, even in public places.
When attacked, assess the situation and stay calm.
Get a tight grip on your keychain, or insert your finger in the holes that resemble cat eyes.
With a strong punch, jab the keychain in your attacker to injure him.
When your attacker backs down, get away and inform the authorities.
The cat keychains are very promising for these situations. Plus, they're cute and compact, so you can take them wherever you go. You can also take other custom acrylic keychains as collocation
Don't be caught unprepared – pick up a self-defense cat keychain today!
Who Needs These Self Defence Keychains?
You don't need to be a martial arts expert to appreciate a good self-defense keychain! These keychains are perfect if you're looking for something to keep you safe on your commute or just want to be prepared for anything. No one is safe in this world, but these people are the ones who need this keychain the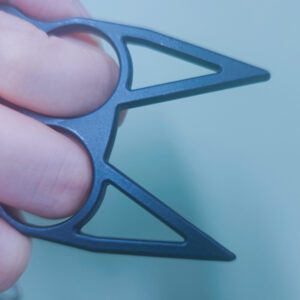 most,
Kids
Women
Night shift workers
Nurses/Doctors
Students
Athletes
Be Safe, Not Sorry: Get Self-defense Keychains
Our world is not as safe as we think,, so we must take extra precautions when going out. What's more promising than having your very own self-defense keychains, specially brought from Pdodo's websites? They have the ones that are easy to carry and lightweight, like the self-defense cat keychains. As there is no harm in being too careful.