A person's desk is their private place and can indicate their personality, interests, and line of work. Whether you're a student, an employee, or a freelancer, your desk setup can remarkably impact your attitude and productivity. A stylish approach to decorating your desk as you like is with an acrylic standee.
On the one hand, a custom acrylic stand is customizable. On the other hand, it is affordable. So, regardless of your profession, age, or interests, it is a perfect addition to your desk. This blog post will highlight stunning uses for acrylic standees to spruce up your workplace.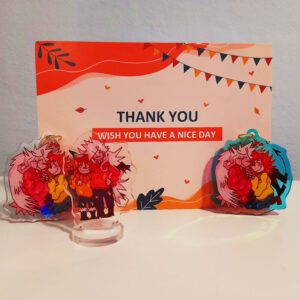 Create A Personalized Acrylic Standee
A custom acrylic standee is the best way to showcase your taste and personality. You can include a photograph of a loved one, a photo of you and your pet, a favorite quote, a symbol, a pattern, or a design that most accurately captures who you are.
The custom acrylic stand comes in a variety of sizes and forms. So you can choose whatever best suits your preferences.
Design A Fandom-Based Acrylic Standee
If you're a fan of a particular TV show, movie, book series, or video game, you can show it off with an acrylic standee. You can get a standee printed with a character, symbol, or statement from your preferred television show or motion picture.
For example, if you are a warrior soul, you can get an acrylic fighter tumbler standee. Along with making your desk stylish, it will also bring back memories of your beloved fandom.
Get An Acrylic Standee As A Message Board
As a desk worker, you often need a message board. The market is full of countless options. However, if you want a practical and stylish solution use a dry-erase board acrylic standee. An acrylic standee with a dry-erase board is ideal for taking notes, marking reminders, and organizing your workspace.
You can also select a range of sizes, shapes, and patterns to find the ideal fit for your workstation.
Go For A Motivational Quote Acrylic Standee
Words can uplift and inspire us. You can put your favorite inspirational message or say it on an acrylic standee. It might be a line from one of your ideal writers, thinkers, or even motivational speakers. You can pick a typeface and layout that most closely reflects your personality and sense of style. You can look at the standee whenever you're feeling down.
Use Acrylic Standee As A Desk Organizer
You can use acrylic standees to create desk organizers. The acrylic standee is also available in a multiple-compartment form to hold pens, pencils, paperclips, and other office supplies. Your workstation will continue to be clutter-free and look well-organized.
Wrapping Up
In a nutshell, acrylic standees are a great way to customize your desk according to your needs, preferences, and style. Whether you are a student, office worker, or designer, you can get your personalized standee. In other words, there are countless opportunities.
If you're looking for an acrylic standee of your taste, you can contact Pdodo. Pdodo is fasting growing online retailer offering countless acrylic keychains, standee, and much more. So revamp your desk with an acrylic standee to reflect your inner personality.
You may be interested in The Best Table Ornaments You Deserve