Don't you think a business keychain is a striking, fun & chic way to promote your business? Custom keychains have some exceptional qualities designed to help people spot them. Your business or brand will be able to reach the widest possible audience for the cutting-cost prick of a custom keychain.
Here's How To Promote Your Business By Custom Keychains
Using a promotional custom keychain that displays your business name can be tedious. Right? But a specially designed custom keychain can ace the game to promote your business. Let's reveal some excellent business keychain ideas here:
Photo Custom Keychain
Using a photo business keychain with a custom selection of designs and shapes to attract new customers is a remarkable way. The photo custom keychain idea can also help to engage and surprise your existing customers who value your new products. You can advertise the best side of your business, promote your new arrivals or products photo, or any important business event through stunning photography on custom acrylic keychains.
Business Logo Keychain
Business logos are the most specific part of your business. A well-designed logo custom keychain is the most popular advertisement method among businesses. A business keychain with a logo engraved on materials like acrylic, wood, or metal can skyrocket your business promotion campaign. Creativity can enhance the impact of your logo custom keychain.
QR Code Keychain
QR code business keychain is a smart way of promotion nowadays. You can also use this practical and eye-catching custom keychain technique to boost your business. QR code acrylic keychains with different shapes and colors promote your business in the latest style. You can select your favorite design to print a business card or Spotify QR code custom keychain.
Business Name Letters Keychain
Company name or a product name custom keychain is undoubtedly a classic way of promotion for decades. But you can make this traditional style more unique by adding various techniques, materials, designs, shapes, and colors to make your business keychain more stylish. You can change the sides of the keychain according to your choice. Custom acrylic keychains can make it an impressive way of promotion.
Key Benefits of Using Keychains For Advertising
You may increase your brand awareness and product familiarity and draw too much attention to your business with custom keychains. Here are some key benefits of using keychains for advertising.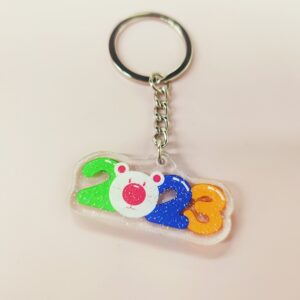 Considering how often people use their keys, keychains are an excellent item for advertising campaigns.
Keychains as promotional items are a creative and valuable method to interact with customers.
It's easy to increase the recognition of a brand by having people carry it around or display it proudly.
One of the best things about promotional products like keychains is that they are cheap and easy to find, which is perfect for boosting any business's brand awareness.
Commonplace items like these can increase brand awareness more than any other form of advertising.
Because keychains are relatively inexpensive and stylish, they make a great giveaway item for any event.
You can advertise a product or service with a custom keychain to the target market without breaking the bank.
Business keychain ideas help your business stand out from the competition by showcasing the company's personality and style. Pdodo.com is the best place to bring your business promotion ideas to life through expert technology and customization techniques. Because a custom keychain has consistent exposure to help build a positive public perception of your business.