Acrylic keychains have become increasingly popular in recent years, as they offer a durable and versatile material that can be customized in countless ways. Whether you want to add a person's name, a favorite quote, or a beloved anime character, acrylic keychains provide the perfect canvas for personalization.
When it comes to finding the perfect birthday gift, personalized items are always a great option. Not only do they show that you've put thought and effort into the present, but they also add a special touch that can make the recipient feel truly appreciated. If you're searching for a unique birthday gift idea, personalized acrylic keychains are a fantastic choice, especially for artists who love anime.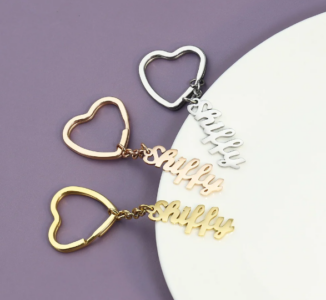 One of the most appealing aspects of personalized name keychains is that they can be tailored to suit any individual's style and interests. For artists who adore anime, these keychains offer the opportunity to showcase their passion and add a touch of anime flair to their everyday lives.
With so many options available, you can choose from a wide range of anime-inspired designs, including popular characters, iconic symbols, or even original artwork. This means that you can create a truly unique and one-of-a-kind keychain that the recipient will cherish for years to come.
Personalized name keychains also make for a practical gift, as they serve a purpose beyond simple decoration. Keychains are an essential item for keeping track of keys, and having a personalized acrylic keychain adds a sense of identity and personal style to an otherwise mundane item.
Artists who love anime often have a deep connection to their favorite characters, and a personalized keychain featuring their name or a beloved character can serve as a constant reminder of that connection. It's a small but meaningful way to show someone that you understand their interests and care about their happiness.
Personalized acrylic keychain gifts
While personalized name keychains are undoubtedly a wonderful gift option, they're not the only way to incorporate personalization into a keychain gift for an artist who loves anime. There are plenty of other creative and unique ideas to explore.
One idea is to create a keychain that features a favorite quote or line from an anime series. These quotes often hold emotional significance for anime fans and can serve as a source of inspiration or motivation. By choosing a quote that resonates with the recipient, you can create a keychain that holds a deep personal meaning.
Another option is to customize a keychain with a portrait of the recipient's favorite anime character. This can be done by finding an artist who specializes in anime-style portraits and collaborating with them to create a unique and personalized keychain design. The result is a gift that captures the recipient's love for anime in a truly exceptional way.
If you're feeling particularly creative, you could even consider making a DIY keychain for the artist in your life. This allows you to put your own artistic skills to the test and create a completely original and personalized gift. Whether you choose to paint a miniature anime character, create a clay sculpture, or design a charm from scratch, a handmade keychain is sure to be cherished.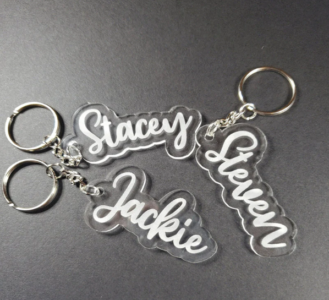 When it comes to personalized keychain gifts, the options are truly endless. From engraved acrylic keychains to custom-made designs, there's something for everyone. The key is to choose a design or concept that reflects the recipient's personality and interests, while also incorporating elements of their love for anime.
Ultimately, personalized acrylic keychains offer a unique and thoughtful gift idea for artists who love anime. They allow you to add a personal touch to a practical item, creating a gift that is both meaningful and functional. Whether you choose a personalized name keychain, a keychain with a favorite quote, or a custom-designed keychain, you can be sure that the artist in your life will appreciate the effort and sentiment behind such a special gift.