Bag Accessories
Your bag is your most convenient accessory. Bags are used for fashion purposes as well as for the purpose that it is made for: carrying things. Around the world, people are obsessed with bags, which has increased bag sales and has become a profitable advantage for many brands.
Bags can be dull at times and need a little glamorization. Here are the steps for the accessories. Bag accessories are minute details added to bags to make them look trendier.
There are many accessories for bags, such as ribbons, pendants, and so on. So which accessories and how to match them can make your bag look more eye-catching?
If you are looking for bag accessories, here are 6 recommended bag accessories:
1. Scarf
A scarf is a piece of cloth that can be tied to your handbag. Scarves act as a quick fix if you need to make any last-minute changes to your look. They possess the quality of making your bag look unique while also protecting it from damage.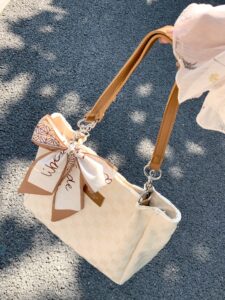 People usually prefer silk scarves, as they give an extravagant look when the scarf comes together with the leather of your bag. There are multiple ways how you can style your bag with a scarf:
Full handle wrapping.
Bow tying.
Knot wrapping the bag.
Simple one knot on the handle.
Tying the shape of a rose flower on the handle.
2. Ribbon
Ribbons are long, silk or organza ties. They are used to decorate various objects and bags are one of them. They can be tied to the handles, wrapped around, or made into bows. Many fashion brands use ribbons as an accessory to add value to their bags.
3. Keychain
A custom acrylic keychain is an ornament that can be attached to keys and bags through a zipper. Some people place sentimental value on a particular keychain, while others attach it as an accessory to their belongings. PDODO has a variety of keychains that you can easily match with your bag. They have a collection of leather keychains, photo keychains, metal keychains, wooden keychains, and more. You can purchase yours by visiting their website. In addition to hanging on the bag as a decoration, the keychain has a greater function of collecting your keys, allowing you to easily get your keys without turning to the bottom of the bag.
4. Jewellery
Jewelry is another great fashion accessory that is worn by most while others just love to attach them to their favorite things such as bags. Jewelry such as chains and rings can be tied to bags which will add a touch of glamour to your ordinary looking one.
5. Bag Charm
Bag charms are jewelry made especially for bags. PDODO offers a wide range of custom bag charms at the most competitive prices. They have personalized keychains, acrylic keychains, mini pillow keychains, and more. When you hang the bag charm on your bag, you will attract more people's attention.
6. Statement Bag Strap
Statement bag straps are shoulder straps that can be fixed to your bag. They are available in various colors, lengths, and materials. They are easy to attach and detached, once attached they change the entire image of your bag. Not only does it add charm to your bag but also makes it friendly to be worn and carried.
Conclusion
Whether it is a backpack, a shoulder bag, or a handbag, it is an indispensable existence in our life. So it is as important as possible to choose a good-looking and suitable pendant for your bag. If you already have the idea of buying bags and accessories, act now!  Make your bag more attractive!