Do you believe that music has no boundaries? In today's world, everyone has a casual familiarity with music, but for some, it is much more than that. Listening, playing, or making music is a source of pleasure and inspiration for true music lovers.
Choosing a gift for a music devotee is not hard if you select it from a music-inspired collection. If you try to give a personalized music lover gift according to the particular music taste, it becomes a more valuable and unforgettable gift choice.
The Way to a Music Lover's Heart-Music Lover Gift
From countryside music to pop music, and music albums to instruments, music-inspired daily use presents like a Spotify keychain will be an excellent addition to the life of a passionate musical person.
Let's find out the best music lover gift because this music-inspired latest customized gift option can bring a pure smile to the face of a music devotee. These presents are likely to be appreciated by every music lover, regardless of their skill level or preferred genre of music.
1.Custom Music Keychain
Clear Photo Keychains
These custom acrylic keychains have clear space for a photo.  You can add a picture of the singer of your choice. It will be a great customized gift with a beautiful image of their favorite singer or celebrity musician. You can select a perfect shape, for instance, a heart, round or rectangular, for a famous singer's photo keychain.
Acrylic Charms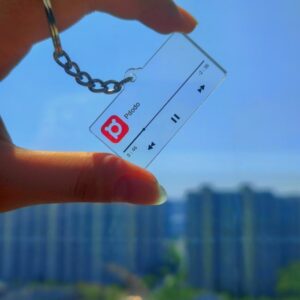 Music-inspired acrylic charms are personalized cute options.  With a variety of purposeful impacts, custom, colorful music-inspired acrylic charms are a true beauty. They can be used as music keychains, bag charms, and mobile phone pendants. They can be fun for a music enthusiast.
Custom MP4 Keychain
If you choose a custom song keychain as a gift, it's possible to add the desired album or track to it. There is the same design on both sides of this custom mp4 keychain. To make it unique, you can use vivid colors of your choice.
Acrylic Spotify Keychain
The personalized acrylic Spotify keychain is also an excellent present for music lovers who spend most of their time with Spotify. You can customize it with your desired album print. The most special point is that each song has a unique Spotify code. When you print this code on the keychain, you can show off your favorite songs and singers anytime and anywhere.
Music Inspired Decor
Music Album Acrylic Standee
Custom Music Album Acrylic Standee is an elegant gift choice indeed. To make it personalized, a print of an instrument, a favorite music album, or a fantastic click of a famous singer or band can be a priceless effort for a music fan. This music-inspired decoration piece can become a beautiful memory of your love for those fanatics.
Acrylic music stand can not only help you store your purchased albums well, but also put it on the desktop. It will be the most unique desktop decoration.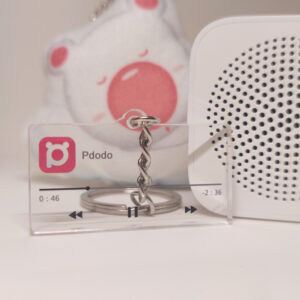 Speaker
It's another choice for a music fan to have a speaker or headphones as a present on any occasion. It's a must for music and can be used at any place and under any circumstances. Speakers produce crisp sounds for songs and music for an enjoyable experience. For music lovers, whether they are high-end or affordable, receiving audio is always a pleasure.
Conclusion
In today's article, here many suggestions on custom Spotify keychains, speakers, and other music-related items to help you select the finest music lover gift on your side this year. You now have many cute, purposeful, aesthetic, and colorful options to select a gift instantly. Don't forget to give them a shot as your next gift for a music fancier.