Although acrylic keychains have become very popular in our lives, there are still many unclear places for those who want to customize keychains for the first time.
If you also want to learn about the production, customization, and techniques of acrylic keychains, then don't miss today's content.
How do I make custom keychains at home?
DIY Custom Keychains are simple to make at home once you know what to do. The following is one of the ways.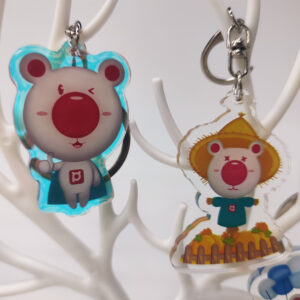 Create your own design or use one of the available templates.
Using sharp scissors or a craft knife, cut out the pieces for the background display.
After you've cut all your pieces, paint your custom designs on top of your background.
Then, flip the acrylic round over, peel away any protective covering, and apply the monogram vinyl to this side.
Finally, attach the ring and tassel to the keychain with needle-nosed pliers.
There are many ways to make your own acrylic keychain, you can choose any convenient way.
Can I customize an acrylic keychain?
Yes, you can customize your acrylic keychain to suit your particular taste and needs. Acrylic keychains can be personalized in hundreds of ways, including with a monogram, rhinestones, designs and symbols, patterns, color matching, or any initials or names you want on your keychain. You only need to open the creative space and customize your acrylic keychain to your liking.
Where can you buy them?
There are many places where you can customize your exclusive keychain, and PDODO is a very good choice.
In addition to keychains, you can also customize other acrylic products in PDODO, such as acrylic standees, mobile phone holders, and so on. Customizing the keychain in PDODO is also very simple, you just need to choose the printing method, size, craft, and accessories you like, and upload the picture. You can get your own favorite keychain. Of course, if you have any other needs, you can contact them by email.
What are the techniques of acrylic keychains?
Although custom acrylic keychains meet people's customization needs, people are often not limited to the simplest styles and started looking for more technology to make keychains look better.
Acrylic keychain technology is custom styling that enables you to give your keychain the look, feel and style that best suits your needs. With their respective creative options, you can use these techniques on the back or front of your keychain.
The main processes of acrylic keychains include epoxy, glitter epoxy,  holographic(broken glasses), holographic(star), and rainbow. Most of the technique is on the front of the keychain by default. If you have special needs, you can choose according to your own preferences. You can also choose from a variety of crafts.
What should I keep on the keychain?
Keychains are commonly used to store keys, cards, logos, stickers, and notes. Any useful tool, from a paperclip to a Bic lighter, rings, coins, and just about anything else, can be attached to your keychain. You can also keep other small items on your keychains, such as press-on nails, chapstick, mementos, jewelry, IDs, or any other important trinkets.
Bottle Line
Above is some information about acrylic keychains. This article, it can not only help you understand the acrylic keychain but also help you understand the points that need to be paid attention to when customizing the acrylic keychain.
There are more questions and answers about acrylic keychains you can check.
5 Q&A About Acrylic Keychains-Part 1