Anime, a Japanese animation style popular for decades in Japan, has recently experienced a meteoric rise in popularity in the rest of the world. Anime has the potential to appeal to a wide variety of viewers, including those of all ages and genders. It can be a pretty cool experience to prepare surprise anime gifts for anime fans or your anime-eager friend, family member, or loved one.
You can choose custom keychains, anime toys, anime-decorated acrylic stands, etc. It may be challenging to go for a personalized gift choice but no biggie anymore with our unique collection for an anime fan. Let's fascinate you with these customized anime gift choices without any delay.
Gifts for Anime Fans Out There
1. Custom Acrylic Products
Custom Acrylic Standee
The customized acrylic standee is a pretty excellent choice for an anime lover. Your favorite customized anime appearance will make this gift memorable. It's available in different sizes of your choice. With CMYK printing, it's a budget-friendly fantastic gift for a sweetheart with a particular love of animation.
What a cute personalized keychain; yeah, the Custom Acrylic Keychain can become the first choice at a glance. You can select the same or different animation printing for the dual sides of it. It's an affordable unique gift choice, and you can design or customize the base.
These double-sided printed Custom Acrylic PP Clips will be incredible gifts for anime fans with lovely custom animation printed on both sides. They are commonly used at home, school, and office. This versatility and a personalized anime look will make them an excellent option.
2. Customized Life Products
The Customizable T-shirt can be an excellent present for an anime fan with their passionate animation. You can select the size, color, and animation of your choice to make it entirely adorable for a person you want to surprise. On every occasion, it can be a great gift for an anime lover.
Custom Acrylic Message Board
With the cute, entertaining animation, this Acrylic Message Board can become a beauty of any home corner or workplace table. It's a unique and purposeful gift too. You can choose the size, anime figure, or shape to customize it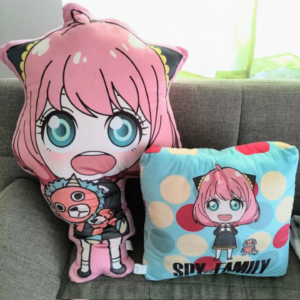 according to your preferences. You will love to present it elegantly animated. You can write an energetic, romantic,  or fun message to make it more personalized.
Custom body pillows, also known as "dakimakura", are very popular with anime fans. You can customize the characters you like. Then place the body pillow on your couch or bed at home. In addition to having a pleasing appearance, it can also bring you a comfortable experience. If you are struggling with what to gift anime fans, custom body pillows are a great choice.
In a Nutshell 
Anime fans are everywhere, and a personalized anime gift choice can prove you are more innovative in front of your loved ones. Customized gifts have become a trend worldwide. People who love animation can likewise benefit from this trend. Try out those mentioned above budget-friendly unique options, choose fantastic gifts for anime fans and bring a smile to the faces of anime fans.