Body pillows are a great way to get extra support and comfort, especially if you're looking to improve your sleep quality. And what's greater than having it in your favourite anime character? Your very own anime body pillow!
These pillows are especially popular with side sleepers and pregnant women, but they can be helpful for people with back pain and other issues.
What is a Body Pillow?
These are often long and narrow and have a perfect shape for snuggling up against that is it is meant to be cradled between your legs as you sleep on your side.
The purpose of this pillow is to improve spinal alignment and aid in pressure point relief, as this pillow provides support to your head, neck, back, and hips.
These pillows come in many different shapes, sizes, styles, and colours so that you can buy them according to your preferences.
Anime Body Pillow: The Best Way to Cuddle with Your Favourite Anime Character
If you're interested in an anime-themed body pillow or a 'dakimakura,' then this is just what you need. These pillows provide the same support as traditional body pillows but with a fun anime twist. Simply select your favourite character and snuggle up with them every night.
Aside from being a cuddle partner, this anime pillow is also said to relieve stress while sleeping. These can also be used as security pillows.
How to Use and Sleep with a Body Pillow
The most important thing when using this pillow is to adjust it according to your body comfort but if you are a side sleeper, then here is the most common way to use this pillow,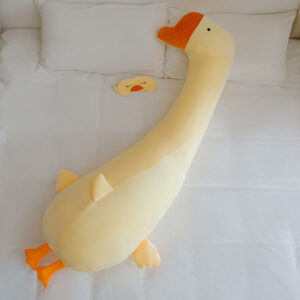 Lay the pillow along the length of your body
Place the pillow between your legs and put one leg around the pillow
Now you can either hug the pillow if you want to cuddle with the anime body pillow or rest your hand on top of it.
This pillow is not only suitable for side sleepers but can also be helpful for back sleepers,
It can be helpful when you place it under your knees, which takes the pressure off the lower back while sleeping.
Even stomach sleepers can use body pillows that are,
You can keep it under your stomach, which helps to lower the pressure in the hips and lower back.
Why is it Important?
These body pillows give you more than just a good night's sleep that is it provides,
Support and alignment that relieves the pressure points
Reduces tossing and turning as it restricts your movements
Improve sleep quality, helping both physically and psychologically
Improves your blood circulation and blood flow
Reduces snoring and sleep apnea.
Catch Your Favourite Anime Character by Your Side!
Getting enough quality sleep is crucial to your health and happiness. A body pillow is one of the most revolutionary sleeping aids of all time, especially the anime body pillow if you are an 'otaku'. A good night's sleep helps you tackle the next day with energy and positivity and here at Pdodo we can help you with high-quality and aesthetically pleasing custom pillows!