As a cosplayer, you can spend hours scouring the internet looking for the best costumes, props, and accessories like custom keychains, etc.
If you haven't invested in your hobby, now's the time to start.
Every cosplayer needs a few essential items to have on hand at any given time. Sure, plenty of people get their cosplay ready, go to a store, and pick up what they need. But sometimes, things happen before the plan can be executed. So we did the research, and here are the top 8 must-have items for primary cosplayers.
If you are wondering, how do you start off cosplay? And What things do you need for cosplay? Then here is the answer below!
8 essential items for cosplayer
1. Hot Glue Gun
You'll want a hot glue gun if you ever need to add or remove anything from your cosplay. It's the one tool that will save you from making many mistakes. If you don't own one, now's the time to buy one, especially if you're doing lots of costume changes.
2. Pins
When it comes to cosplay, you'll constantly be changing your outfit to suit the event. This means that you'll probably need a lot of pins and safety pins. You'll also want pins and safety pins for your accessories as well. A basic set will run you around $12. You can buy them online for a small amount if you need more.
3. Spray Paint
Spray paint can make even the most challenging prop look good. You may not realize it, but many cosplayers spray paint their costumes. It's a quick and easy way to get the look you want without buying a new costume.
Hundreds of colors are available, so it will look fabulous no matter which one you choose.
4. Craft Knife
A craft knife is an essential tool for any cosplayer. Most cosplayers will tell you that these are among the most important tools they own.
5. Custom Items
The best part about custom items is that they can double as ID tags for your costume. The perfect combination! You can customize anything by adding your picture and text, such as custom keychain, personalised bags, custom acrylic standee, acrylic pins, etc.
What's more, custom items are also very popular accessories when you're cosplaying.
6. Measuring Tape
The measuring tape is an absolute must-have when creating costumes and accessories for yourself. A good measuring tape will allow you to measure anything from head to toe accurately. Most of all, it will enable you to measure the right pieces of fabric to ensure that your costume fits correctly.
7. Scissors
Scissors are essential because most cosplay clothing is made out of fabric. If you don't have sharp scissors, then you might as well not make any cosplay at all. You will also need these if you make any props or decorations for your character.
8. Safety Glasses
As you probably know, cosplayers can get hurt from head to toe. If a piece of costume gets caught in the door, gets a bruise, or falls on the floor and smashes your face, you need safety glasses. They're comfortable and don't fog up. You can also wear them while you do your makeup or take selfies to ensure that your lenses stay clear and sharp.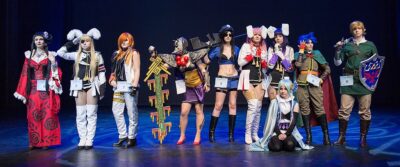 Are You Ready With Your Collection?
What is the best cosplay for beginners? Custom keychains, pins, and glue guns are essential for any cosplayer. They can be used to show off your support for a fandom or character, or they can be personalized to your cosplay with your initials or a unique piece of art.
Image Source:
1.PDODO photography
2.PDODO photography
3.https://commons.wikimedia.org/wiki/File:20140118174713IMG_5618_M_-_Desucon_Frostbite_2014_-_matiast1_(cropped).jpg