The pace of winter is slowly approaching, and everyone is more and more eager to look forward to the arrival of the new year.
As we all know, Christmas is a very important holiday and a happy time for everyone. In the cold winter atmosphere, there is a festive atmosphere everywhere, Christmas trees can be seen everywhere, promotions in the streets, or steaming chocolate or coffee…
The Christmas season is approaching, and the most exciting thing is to give a gift to your family or friends. Everyone understands the importance of gift giving at this time of year, but can also struggle with not knowing what to give
If you want to know more about Christmas gift ideas, then read below!
The reasons we should give gifts on Chrismas
Christmas is a day of love and there are many reasons why we bring a Christmas gift to our loved ones. Here are three common reasons:
For love and affection: Christmas is a great time to express our care and love to those we care about. Glad to have had a year with them, and happy to start a new year with them.
For religious practice: Christians give gifts to emulate biblical teachings about love and affection. Christmas gifts are a lovely Christian tradition passed down through the generations.
To show gratitude: Christmas is also a time to say thanks to friends and family. Many businesses also thank their customers and employees for their patronage throughout the year.
5 Christmas Gift Ideas For You
Christmas is a gift-giving season. The pressure to get a great gift can be excruciating, especially if you're trying not to break the bank.
Here are the top five Christmas gift ideas that you can never go wrong with: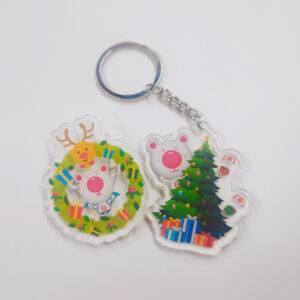 Christmas tree– Christmas tree is an essential decoration for Christmas. In addition to what we can see on the street, there are also many people who like to decorate Christmas trees at home. The experience and laughter that pervade the atmosphere when decorating the tree are unmatched. You can add lamps, stockings, canes, or other decorations to this ideal gift.
Eye masks– they are the best thing because they help us sleep better. They are also cute and special. If you want your family to have a good night's sleep, this is a wonderful gift that will be remembered forever.
Custom items– This is where your imagination comes into play. Many items can be customized and turned into the best gifts. It's a great idea to gift a memorable photo, custom acrylic keychains, engraved accessories with your initials, or a photo book full of your memories. When it comes to custom items, there's no limit to how big or ridiculous they can be. This adds to its uniqueness.
Sweater– This time of year, the winter chill is at its peak, and everyone needs a good sweater to stay warm. A sweater is a thoughtful gift because there is always the need to protect the body while having fun at Christmas.
Perfume– A wonderful scent is priceless. A few compliments can lift one's spirits and brighten one's face, such as "you smell good." Perfume is timeless and extremely useful in our daily lives.
Worrying about finding the perfect Christmas gift can dampen your spirit and turn Christmas shopping into a looming disaster in your mind.
It is necessary to remember that you are giving out of love, and every gift wrapped in love is perfect.
Now that you have read the perfect list of Christmas gift ideas, feel giddy to go shopping for your loved ones knowing you are buying the best gifts.