Sparkling embellishments on clothes, cute badges on school bags…
In fact, in our lives, we can often see the use of pins. But because of their tiny size, pins are easily overlooked.
For a long time, fashion enthusiasts have used them to create good looks. They make fantastic personal or business gifts.
Few people have the opportunity to fully utilize pins. This article will go over various pin types and uses.
Frequently Used Pins
It is important to note that there are various types of pins when discussing them. But in reality, they are used more than we thought.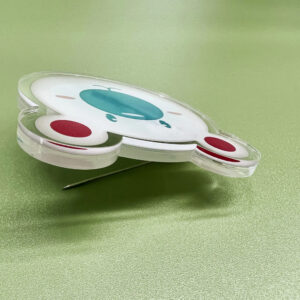 Lapel Pin – A small pin worn on clothing, often on the lapel of a jacket, attached to a bag or displayed on a piece of clothing, known as an enamel pin. Depending on the application, they can be customized, fancy, or simple.
Sewing Pin– Are used for sewing clothing pieces together. They are very effective for holding materials in place and defining important points. They are small, straightforward, and made of steel with a sharp tip that easily pierces materials. It is critical to use them with caution because the tip is sharp enough to pinch the skin.
Offset pin– Are used for more intricate designs that enamel pins do not work well with. They are mostly used for customizing sports trading pins. The color palette is fantastic, and the durability is excellent.
The role of the pin
Pins are all around us and play a variety of roles.
The question with this simple canvas should be, "What are pins not used for?" Here are a few pin uses to consider:
Anime Showcase
People may often display an anime custom standee or keychain to others. But anime merchandise can come in the form of pins. They will be ideal for clipping onto clothing and pinning into wooden frames, among other things. Lapel pins are ideal for this because the cover can be used to paint or print anime content. They are reasonably priced and simple to obtain.
Employee badges
Typically, this is used frequently in businesses. Everyone wears a badge with their job title and name on them. This makes it easier for your customers to remember and find you quickly.
Team Logo
If you are constantly struggling to know what gift to give your team, then a pin is s gift worth considering. Whether in daily work or team building, this little pin can convey your team spirit.
Fashion Collocation
Pin works well as accessories; many fashionable items include a pin accessory. Whether it's an evening dress for a party or an everyday school uniform, a small badge can make you stand out from the crowd. Simple custom pins on a bag or suit will also elevate its appearance. Pins also make an interesting collection. Especially if you enjoy sports.
Collect Gifts
If your friend is a badge lover, badges make a great gift. Since the materials and types of badges are different, you can also customize different badges according to your preferences, such as acrylic badges, metal badges, etc.
Conclusion
Pins are cool to own, but they're even cooler to give as gifts. You can alter them to suit various occasions. The size is not restrictive, and it is reasonably priced. It is a stylish accessory that can be worn at any time.
This article covered the fundamentals of pin usage and the various types of pins available, ensuring that you have sufficient information for your next pin purchase.