Custom acrylic keychains have become extremely popular these days because they are a fun way to show off your personal style, or they can also be a good promotional item for businesses. So if you want to bring out your creativity and add a personal touch to something like an acrylic keychain, you are at the right place.
We will explain a step-by-step guide in this blog to create custom acrylic keychains that are unique and meaningful.
Steps to Design Custom Acrylic Keychains
Follow the steps below, and you will have your custom acrylic keychain in no time.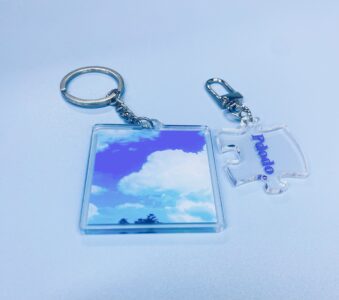 Gathering the Tool and Material Needed
First, you must gather the tools and the needed material to create custom acrylic keychains. You will need the following things.
Acrylic banks in your choice of shape and size.
High-quality acrylic paints that adhere to the acrylic surface.
Paintbrushes to paint your creativity.
Permanent markers to draw any intricate detail.
Keychain findings to attach the custom acrylic keychains to the keyrings.
A clear varnish or a sealant adds a protective layer to your custom acrylic keychains.
Sandpaper to smoothen out the surface and edges of the acrylic keychain.
And lastly, you will need a hole punch or drill to create a hole to attach the keyring finding.
Choosing Your Design
Now that you have gathered all the materials and tools to create custom acrylic keychains, the next important step is to choose your design. Then, it is your time to think outside the box and create a meaningful keychain.
Your chosen design can have some emotional value if you want to gift someone, or it can be a whole story in itself. However, if you are designing for business purposes, you can choose to increase brand awareness in your own way.
If you are out of ideas, you can always search online and get plenty of inspirational references. But, whatever you decide, make sure that it serves the purpose of you creating custom acrylic keychains.
Deciding on the Color Scheme
Choosing the appropriate colors is as important as choosing a relevant design. Your chosen colors must reflect your purpose and the idea of creating the particular design.
For example, if you are creating custom acrylic keychains for business purposes, then the colors must resonate with your brand colors.
Printing and Cutting of Custom Acrylic Keychains
After you have colored your acrylic blanks with the design, make sure to add all the intricate details and get it ready for cutting or printing.
A printer can be used to print the design on the acrylic blank, and a laser engraver can be used to cut the acrylic blank in the proper shape and size.
Assembling the Keychain
Now is the time to punch a hole in your custom acrylic keychains and attach the keyring finding and a keyring.
And done! Your custom acrylic keychains are ready.
Contact Us to Create Your Custom Acrylic Keychains
Designing and creating custom acrylic keychains is one thing, but it is completely okay if you have the idea and want someone else to bring it to life.
It is where we come in. At Pdodo, you are guaranteed to get quality services from a reliable manufacturer. We can give life to your ideas of custom acrylic keychains.
We have a large range of options to choose from, and you can also contact us to get the keychain of your choice. So don't wait, and contact us here today!