Keychains are little key handlers to which several keys can be attached. If a cute little photo is attached to the keyring a photo keychain is assembled.
DIY, Do It Yourself is an ongoing trend well-known among millennials. DIY is based on the concept of making things from scratch. Photo Keychains can be bought or DIY-ed, you can easily make them from scratch at home.
When you saw this, did you have some thoughts in your head about your photos and keychains? Then read through the article to find out how. Pdodo has a beautiful collection of keychains and photo keychains.
Kinds of Photo Keychains
A photo keychain is a common item, but it can also be made in different colors, shapes, and sizes. You can choose from the following options:
Acrylic picture keychain
Acrylic keychains are photo-printed custom keychains that can be customized with your favorite photos. The acrylic keychain can be seen as a reduced acrylic photo frame that you can carry around with you.
Album keychain
Camera Roll Keychain contains multiple photo personal rolls. The keychain has a personal photo album where you can choose your favorite pictures to put in it.
Blank Acrylic Keychain
The blank acrylic keychain is a clear acrylic shell. Crop your favorite photo to the right size, put it into the blank keychain, and you are done with your photo keychain. It's an easy-to-customize keychain, and it comes in a variety of shapes. You can also change photos at any time.
Is Making A Photo Keychain A Great Activity?
A photo keychain holds the main purpose of being a keyring for keys. It can also hold sentimental value if you add your emotions and the picture of your favorite person in the blank picture space which can remind you of them every day.
Or you can put a picture of yourself too. If not so, you can always insert a picture of what you love which could be a book, game or even a show. Making yourself a photo keychain is a great time pass activity that will not only help you use your free time but also you get to have a beautiful photo keychain in the end. Pick any day and make yourself a cute little photo keychain.
How to Make Photo Keychains by Yourself?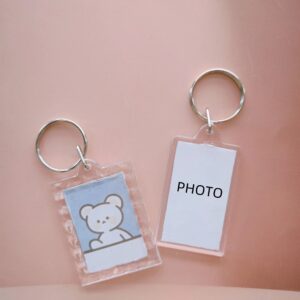 If you have the right materials and a how-to guide you can make a photo keychain in just a few minutes. Making custom keychains such as photo keychains is a fun and simple activity. Start making your DIY keychain.
Materials
Printer
Picture
Acrylic photo blanks
Large key rings
Small chains
Directions
Start by printing your favorite picture on a piece of paper after adjusting its size according to the size of the blank plastic keychain.
Once printed, cut the picture perfectly using a scissor.
Now place your picture between the acrylic photo blanks and close it shut.
Attach your keyring and chain to the acrylic photo frame and your photo keychain is ready.
Final Words
This How-to is easy and concise you can make your favorite custom keychains and photo keychains following these easy steps, if you're looking for photo keychains you can easily find acrylic photo keychains and blank acrylic keychains at PDODO.