A custom keychain is a small chain used to hold keys, usually made of metal or plastic. They can also hold other small items such as key fobs, USB drives, and credit cards.
And these are often decorated with charms, beads, or other trinkets.
Role of a Custom Keychain
A custom keychain can be a great way to promote your business or brand. They can be given out at trade shows, events, or in-store or online.
Custom keychains can also be a great way to show your support for a cause or charity.
In addition, they make great gifts for friends, family, or co-workers and can be a fun and practical way to show your personality.
Material of Keychain
Keychains are made from different materials, but two of the most popular materials are acrylic and metal.
Acrylic keychains are made from transparent plastic material and can be printed with all sorts of designs and images. You can check the range of acrylic keychains online, and we are sure you will love them.
Metal keychains are usually made from stainless steel or aluminum and can also be printed with designs and images. We do have customized metal keychains as well.
Both types of keychains are durable and long-lasting, so you can be sure that your keys will be safe and secure.
Why are Custom Keychains Used?
There are many reasons why you need a custom keychain. A custom keychain is a great way to show your personality and style.
You may want to promote your business or organization or give a unique gift to someone special.
Custom keychains can be made to order with your choice of text, logo, or design, making them truly one-of-a-kind.
Custom keychains also make great keepsakes and mementos. For example, if you've been to a special event or place, you can have a keychain made to commemorate it. Or, if you want to remember a loved one, a custom keychain with their name or image on it can be a beautiful way to keep them close to your heart.
How to Choose a Keychain?
There are a few factors to consider when choosing a keychain.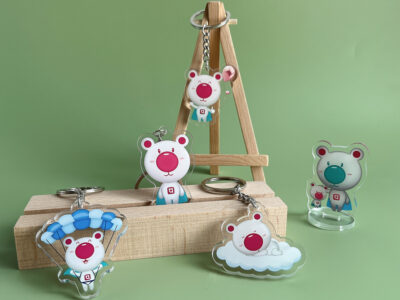 Think about what material you want the keychain to be made from. There are keychains made from metal, plastic, wood, and more.
Consider what type of design you want. Do you want a keychain that is simple and understated or one that is flashy and eye-catching?
Think about how you will use the keychain. Do you need a keychain that can hold multiple keys or one that is small and lightweight?
Consider the price. Keychains can range from a few dollars to hundreds of dollars.
Consider the warranty. Some keychains come with a warranty, while others do not.
Think about the return policy. Some stores allow you to return keychains within a certain period, while others do not.
Choosing a suitable keychain can be difficult, but if you keep these factors in mind, you will be sure to find the perfect one.
Where to Buy?
Whatever your reason for needing a custom keychain, there's sure to be a design and style that's perfect for you.
So, look around at pdodo and see what catches your eye – you may be surprised at how much you love your new keychain!