A keychain is to a key what a name is to a human. Just like you can pick out a human from a bunch of 50 with just the name, you can pick out a key from dozens with a keychain.
If you really are going to use a keychain, why not use one that serves more than one purpose? From being unique and trendy to light-weight and aesthetically pleasing, these keychain categories are the best you can get at a reasonable price.
5 Kinds of Keychain Categories Can Give You a Unique Look!
1.3D Keychains
Are you one of those who don't want a plain, lifeless, bummer keychain? If yes, then these 3D Keychains are the best keychain categories for you.
The customization of 3D keychains will be more complicated than the customization of acrylic keychains. But it will definitely be the most unique keychain. These amusing yet minimalistic keychains are enough to market yourself as the person you are!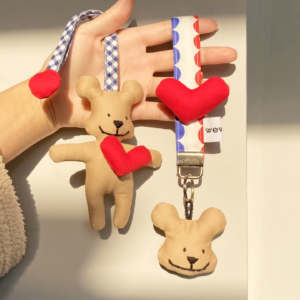 Get one custom-made with stuff like your favorite snack or cartoon character in 3D. No more worrying about keychain scratches or the heavy-weight keychains dropping to the bottom of your pockets.
2. Plush Keychains
If you're still a child at heart who wants a cute and squishy accessory to partner with your key, try a Plush Keychain. A perfect keychain accessory to play with while you're bored at the office or deep in thought in your bed.
Choose anything that you would want to be associated with, and get a soft custom-made keychain of it. An entertaining yet stylish look to your keys, which can be played with! Could it get any better? As long as you're fond of soft surfaces, this mini-pillow is the best pair for all your keys.
3. Acrylic Keychains
Satisfy the pursuit of your own taste with strong, durable and beautiful custom acrylic keychains. Take a picture of anything that means something to you and use Pdodo to make it into a keychain. Whether it's your favorite song, anime character, destination, or animal, keep it with you, every day, and feel complete. The best part is that you can personalize it however you want.
Don't want people in the office to forget your name? Customize a keychain with your name on it and put it on your desk! No more fraying over time because the acrylic key holder is extremely durable. Anytime your acrylic starts to get old or the edges aren't clear, you can apply toothpaste and you've got a brand-new keychain! However, if bright colors or hard keychains aren't your things, this isn't the best choice for you.
4. Wooden Keychains
Being old-school has its own aura, just like a Wooden Keychain. Not everyone is fond of bright colors enough to see them throughout their day. If you want a simple yet aesthetic keychain that matches your personality, a wooden keychain is the best accessory for you. You can get your name written with wooden letters hung together with a chain or get it engraved on the wood, whatever suits you best.
5. Metal Keychains
Nothing compares to the class and elegance of metal. What could be better than having a piece of it as a part of your daily routine? Polished metal keychains are one of the oldest and most aesthetic forms of keychains, and today's technology has made it better by making custom-made shapes and names available to everyone. These multi-functional keychains and many more materials, designs and styles are available at an amazing discount on bulk orders at pdodo.
Final Words
The above are 5 types of keychain categories that are highly recommended. Whether for yourself or as a gift, these keychains are a great choice. Action is better than excitement! Come and customize your exclusive keychain!