Custom acrylic keychains have become the go-to gift for all occasions. These little treasures offer a unique way to show appreciation and love. They are a blank canvas for creativity, ready to carry your heartfelt messages or designs. From birthdays to weddings and everything in between, acrylic keychains bring a touch of thoughtfulness to any moment, making them the perfect present for anyone, anytime.
So, if a special occasion is coming up and you are stumped for ideas for a birthday gift, personalized keychains will make for a perfect gift. Keep reading to find out.
Why Personalized Acrylic Keychains Stand Out
Custom acrylic keychains are something special. They're unique because they're clear and shiny, making them look elegant. Plus, they're strong but lightweight, so they don't make your keys heavy. You can choose from various shapes, sizes, and colors, giving you many design options.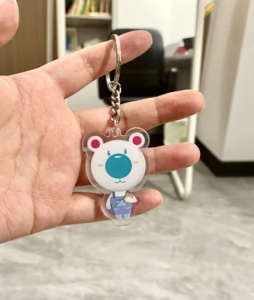 What makes them even more awesome is that you can make them your own. You can engrave your name, a special date, or a message that's meaningful to you. You can even put in a photo or some artwork. Whether you're into sports, hobbies, or something else, you can find a theme that fits your style. These personalized keychains are all about making something that's truly yours, and that's what makes them stand out.
What Occasion Are Custom Acrylic Keychains Best For?
These keychains are fantastic gifts for special moments like birthdays, weddings, or graduation. For weddings, you can create keychains with the couple's names and the wedding date as keepsakes for guests. At graduations, these keychains can be customized with the graduate's name and the school's logo to celebrate their achievement.
Similarly, for a birthday, you can get your beloved's favorite character or their birth date written on the keychain. The only limit on these custom options is your imagination.
How To Customize Acrylic Keychains For Different Occasions?
Weddings and birthdays are not the only events where you can gift custom acrylic keychains. For a housewarming, consider engraving the new address or a warm welcome message. On Valentine's Day, opt for romantic designs or sweet couple photos.
Corporate events can feature the company logo or event details. For an academic achievement, display a diploma image and graduation year. If you are celebrating a new job or promotion, customize it with the person's name and title. The beauty of acrylic keychains lies in their adaptability to any situation, making them versatile gifts that mark each occasion's uniqueness.
Why Choose Pdodo for Buying Personalized Acrylic Keychains?
If you want personalized gift items, Pdodo is about to become your best friend. You can not only get customized keychains but also other personalized items such as custom acrylic pins, an acrylic standee, and more. With a huge range of custom products, you are not limited to custom acrylic keychains at Pdodo.
There are options for everyone – a pet lover, a sports enthusiast, and an anime fan. Moreover, Pdodo is not limited to basic accessories as your keychains can perform additional functions, too, such as being a bottle opener. The best part is that you can handle these items for reasonable rates.
So, don't wait up, and grab your favorite keychains and other custom gifts from Pdodo. Visit the website for more information.