Photo Keychain Custom is a great memento for yourself. In today's world filled with digital photos and transitory experiences, finding a means to appreciate and preserve our most prized memories has become more vital. Among the different alternatives available, a photo keychain custom with a particular photograph has the potential to become a truly remarkable memento, working as a constant reminder of a significant event or a beloved connection. These personalized photo keychains not only add a personal touch to your daily life but also hold sentimental value.
However, some individuals still have questions concerning these keychains. So in this blog, we'll discuss all the things you should know about custom Keychains.
What Photo Should I Put In The Photo Keychain?
When choosing a photo to be displayed on your custom keychain, choose one that has profound personal meaning for you. It might be a photograph of a loved one, a snapshot of a memorable event, or a beloved pet. The goal should be to pick a picture that makes you feel good and has sentimental importance to you. Aside from picking the right photo, it's important to pick the perfect photo keychain custom. You can get high-quality Keychain accessories like Clear Blank Acrylic Keychains and Custom Acrylic Keychains from Pdodo at affordable prices.
Why Should People Use a Photo Keychain Custom?
Well, there are several benefits to using a photo album keychain.
A photo keychain allows you to exhibit your distinct personality and uniqueness. It turns into a statement item that reflects your unique style.
Unlike typical photo frames or albums, a keychain allows you to take your treasured memories wherever you go. It acts as a continual reminder of the priceless moments the snapshot captures.
Photo keychains are excellent presents as well. You may personalize them with images that are meaningful to the receiver, making them a unique and thoughtful gift. if you're looking for high-quality personalized photo keychains then Clear Blank AcrylicKeychains and Custom Acrylic Keychains with photos are undoubtedly the ideal presents for your loved ones.
Why is a Photo Keychain a Good Memento?
A mini photo album keychain can capture priceless moments and trigger memories, making it more than simply an average accessory.
Comforting and Grounding
You can always have your favorite memories with you by carrying a keychain photo book. Having a physical memory of special events may be reassuring and grounding in the chaos of everyday life. Whether you're going through a difficult day or simply taking a minute to contemplate, Looking at the keychain and the picture it carries can bring comfort and motivation.
Source of Joy and Inspiration
Whether it's a candid shot of a loved one or a photo from a vacation, the image you choose serves as a source of inspiration and joy every time you reach for your keys. Well, you can also get this joy by ordering Custom Acrylic Keychain from Pdodo.
Conversation Starter
Personalized photo keychains can generate conversations and allow you to share your tales and memories with others.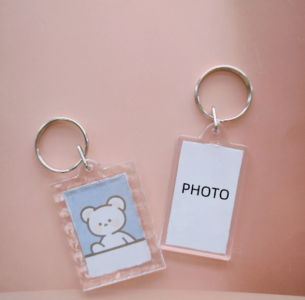 Final Words
A photo keychain custom offers a unique and meaningful way to hold on to cherished memories. Its ability to record a precise moment and the way it adds comfort to everyday life make it a truly special memento. So why go for normal keychains when you can get the best-personalized photo keychains at Pdodo? They offer photo album keychains in various shapes and the best part is that you can also avail discounts on bulk purchases. So visit their website now to get your hands on these photo keychains.