It seems to be an effortless thing to choose a gift for your lover, but every time we always get lost in the world of dazzling gifts. If you are also struggling with the choice of gifts, then you must not miss this guide today: simple but powerful gifts—-keychains.
Although the keychain is a very disregarded object, if you match it properly and use it properly, then you will receive surprises. To help you prepare the best keychains for your loved one, here are some keychain ideas that you can give someone!
5 Best Keychains for your loved one 
Bottle open keychain
If your lover is a drink lover, or always can't open the bottle cap well every time, then the bottle opener keychain is a very good choice.
The bottle opener keychain is as simple and easy to use as the bottle opener you keep in your cupboard. It's sturdy, has a scratch-resistant finish, and comes with a metal key ring. Usually, you can put it together with your keychain, put it in your backpack or hang it on your belt. You can easily access and pop the cap when you need to use it.
Say goodbye to the embarrassment of not being able to find a bottle opener or not being able to open a bottle cap. Now, give them not just a key chain, but a way to open all bottles in peace!
Wallet with keychain
Wallets may be our most important personal items. It contains all your everyday objects. You come and go with it every day and take it out countless times. Therefore, the combination of keychains and wallets can perfectly solve the problem we store keys as small changes, and allow us to find them quickly.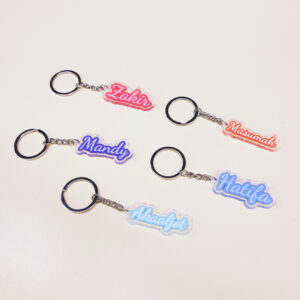 One thing is for sure, a decent quality keychain wallet will last you a long time. And compared to handbags, money keychain bags are used more and are cheaper. You can even choose to match different custom keychains based on the event, your outfit, or changing seasons.
Could there be a better combination than this as a gift for him?
Name keychain
Personalized name keychains are the best keychains for men and women. There's nothing more special than custom acrylic keychains that makes them feel like they belong! You can choose any letter to make the keychain itself. You can also simply design your name and customize it into an acrylic keychain.
There is something sweet and romantic about having a keychain with your partner's name on it.
Don't hesitate to buy one for your loved ones!
Self-defense keychains
A self-defense keychain is a gift worth considering buying for your loved ones. We can't protect each other all the time, so the self-defense keychain can play a role in critical moments.
Whether it's being stalked or just having an uncomfortable tendency, having a self-protection device in hand will make you feel safer. Buying a self-defense keychain and carrying it with you is an easy way to keep yourself safe.
Now don't just use a keychain for your keys, it's for your safety too!
Puzzle piece keychain
Life itself is a puzzle, so why not add this creative twist to your keychain? Puzzle keychains are best to keep with you. Not only do they provide a funky look to your keychain, but they also look stylish.
When the puzzle piece keychains are put together, it is as if you are in a relationship, so fit and inseparable.
Try giving your loved ones a puzzle keychain as a gift, not only will you surprise them, but they will know how important they are.
Conclusion
These are some of the best keychains you can gift him/her. If you are still struggling and don't know what gift to give, why not try to choose these keychains full of surprises?
Make up your mind and hurry up!