Keychains are simple objects that are versatile enough to play an important role in our lives. The beauty of a keychain lies in its simplicity, size, and construction.
The rise in custom keychains is attributed to people's desire to create and own beautiful, one-of-a-kind keychain pieces.
Techniques are important to understand because they are what distinguish one keychain from another. This article will go over some of the most common keychain materials and keychain techniques.
Quality Keychain Materials
Different materials are used to make simple everyday items such as keychains. The materials used in keychains play an important role in customization, weight, and durability.
Here are a few keychain materials you should be aware of.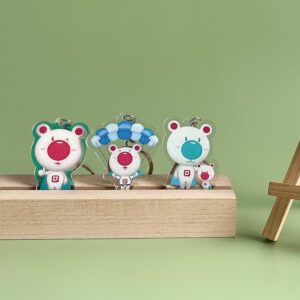 Acrylic keychain– Acrylic is a lightweight plastic that is as clear as glass but stronger. This material has been used for a variety of custom acrylic keychains due to its exceptional durability.
Zinc Alloy Keychain – Zinc is a very heavy material, but when combined with other elements, it becomes more durable and stable, making it ideal for keychains.
Wooden Keychain– The selected pieces are carved into various shapes. Because the type of wood used affects the overall weight of the keychain, light wood is commonly used.
ABS Keychain– a strong plastic material that is lightweight and simple to make. It is widely used in the production of keychains.
Steel Keychain– One of the first and most common materials used to make keychains is steel. It is light, strong, and durable.
Different keychain technologies can make your keychain more attractive. Many techniques have been tried when making custom keychains. Some worked, while others did not provide the desired uniqueness.
Here are a few worthwhile keychain techniques to be aware of:
Holographic keychains have tones that change depending on how the light hits the keychain. Because acrylic is transparent, it is more visible.
Clear Acrylic Keychain– Simple acrylic keychains are personalized to highlight the clarity of the clear piece. It works well for enhancing the beauty of whatever is designed on it.
Epoxy Keychain – These are clear resin pieces. To ensure a longer lifespan, brands such as Pdodo use environmentally friendly and anti-scratch materials.
Glitter Epoxy Keychain – Depending on the type of glitter used, clear resins are decorated with various types of glitter to give a shiny effect.
Gold Edge Acrylic Keychain – A layer of gold edge film is applied to a basic acrylic to increase transparency. It thickens the finished product's layering.
Rainbow Keychain – Colors are infused into acrylic to create a subtle rainbow color effect on the keychain. This is a signature for some customkeychains, but it can also be added on request.
Bottom line
Knowing the difference between your keychain and another is crucial. Understanding the process that resulted in beautiful and fascinating keychains can be very beneficial.
Everything that goes into making a key chain contributes significantly to its durability and beauty. This article has covered materials and techniques to help you make your next purchase decision.