Valentine's Day Present To Your Loved One
Valentine's Day is that special time of the year when we all express our love and appreciation to our loved ones. Giving meaningful gifts conveys our affection, whether it's our partner, kids, family members, or friends. Personalized gifts are especially memorable and sure to make one beloved happy. Custom keychains can be a great way to show your love, and Pdodo has a wide range of custom keychains to choose from.
Although 2.14 Valentine's Day has passed, for two people who love each other, every day can be Valentine's Day. Accept this Valentine's Day gift guide and create surprises for every "Valentine's Day"!
Valentine's Day Present Ideas
· Custom Keychains as a Valentine's Day Present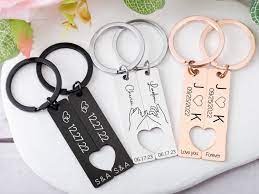 One way to show your love is to give your partner a custom couple keychain. Custom keychains can be made with your name, initials, or a special message, making it a unique and personal gift. Pdodo offers high-quality acrylic designs in various shapes, sizes, and colors. Give your loved one the perfect personalized gift that won't be forgotten.
· A Special Sweater To Show Affection
Show your love this Valentine's Day by gifting your partner a special sweater. Cozy and comfortable, it's an inexpensive yet thoughtful present they can wear all year round! Choose something with a meaningful message or design – they're sure to make it their favorite weekend outfit!
· Classy Flowers for Special Occasions
Surprise your special someone with an extraordinary flower arrangement to tell them how much you love them! Pick their favorite blooms, classic red roses, or something unique and create a creative color palette and unique arranging style. Accompany the beautiful display of flowers with a heartfelt written message expressing your love – it'll surely bring joy to their Day and make them feel truly loved!
· An Option of a Romantic Dinner at Home
Nothing is more romantic than an intimate dinner cooked together at home. To make it special, turn off electronics, dim the lights, and set up soft music & candles. Serve something delicious like steak, seafood, or comfort food with lots of love. Enjoy each other's company while savoring the food for a perfect Valentine's celebration!
Planning the Perfect Date with Thoughtfulness
Show your significant other you care by planning a memorable night. Choose a restaurant or bar, adding special touches such as flowers or decorations. If you have kids, hire someone to watch them while you two spend quality time together. Make sure your partner feels appreciated and create fond memories.
Sending Valentine's Day Gifts
Valentine's Day is special for couples in love – it's a day to show one another your appreciation and affection! Expressing your feelings through gifts can be a great way to deepen your connection. Whether it's chocolates, flowers, jewelry, or something unique like custom keychains that says 'I Love You' or name keychains. Giving a gift on this special occasion speaks volumes about how you feel towards each other.
So spread some love today and get into Valentine's spirit!
Your Love, Your Way with Pdodo's Custom Creations!
Make your loved one feel extra special by going the extra mile with personalized customization services offered by Pdodo! They provide professional acrylic key chains, custom keychains, bracket cards, stickers, mobile phone cases, and more – each item customized specifically for you. With Pdodo's beautiful and unique product experience for your designs, logos, and pictures, you'll bring joy to their lives this Valentine's Day!