Personalizing the workplace isn't just a trend; it can be essential to make you feel comfortable in your office. One way to do this is by customizing items with your favorite colors and designs. Whether you want custom clothes, custom keychains, or custom pillows – there are plenty of ways to add a unique touch that reflects who you are!
From adding subtle quotes on custom pillows and fun logos on custom keychains to custom clothes – these styles will instantly help dress up any desk and amp up the work environment.
Let's explore the many options for expressing yourself through customized office decor!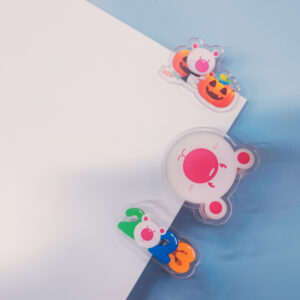 Custom Series About Office
· Custom Team Clothes
Custom clothes for the team are another great way to customize your office setting while looking stylish simultaneously! You can even use custom clothes for branding purposes; just add logos or designs of your choice onto t-shirts and sweatshirts. Whether it's for special events such as birthdays or company outings – having custom clothes for the team is always appreciated, and you can get some amazing custom clothing at Pdodo.
· Pp Clips
The acrylic PP clips are lightweight and durable enough. Pp clips come in many fun designs and can be customized with your company's logo or slogan, creating an eye-catching staple in your workspace at Pdodo. Use them as bookmarks, add them to a keychain chain of their own, or even put a logo or text on them – they're sure to make every item more special, like custom keychains!
· Custom Name Card
Having name cards that are both informative and personalized is great for any business or workplace. You can get them printed with whatever design, logo, or information you'd like to include. They come in handy when introducing yourself formally to others as it provides others with an additional point of contact about yourself or your company. Not only do they look professional, but they also offer neatness and organization in any given space.
· Custom Pillow
Next up – custom pillows! Whether used as mini-pillows with matching custom keychains or throw pillows for the couch – these personalized cushions are perfect for any space. Choose from an array of sizes, styles, and colors to create something truly unique for your office environment from Pdodo. You could also opt for custom pillows featuring your very own logo or text!
· Custom Desktop Stand
A custom desktop stand is designed to be placed on top of desks and tables. These stands are ideal if you're looking for something both practical and aesthetically pleasing. Most commonly used items like planners, document holders, and cups will all look much neater if stored via one of these customizable stands – which can be personalized by engraving personal messages onto them (or, again, feature your company logo).
Personalizing Your Office Space Made Easy With Pdodo
The modern workspace should be designed to meet your individual needs and aesthetic preferences. With custom office items, you can make them uniquely yours. Whether you're looking for custom keychains, custom clothing, or custom pillows, Pdodo makes it easy to personalize your office space with high-quality products available at a great price.
Adding custom charm and style has never been easier – so why not take the plunge today?